Underwater repairs, the differential of Propulservice.
Through our division "Propulservice underwater", we offer an exclusive and pioneer service in our area: The submerged repair in propulsions systems.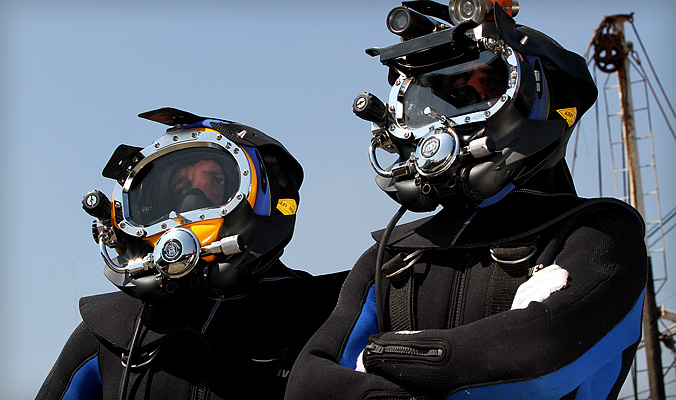 The underwater service streamlines the ship repair and drastically reduces costs for our customers, it does not require that the vessel is docked. The team of Propulservice Underwater goes where the boat is. It must be docked in sheltered waters. On site is created a dry ambient in the tunnel thruster with the use of flexible cofferdans, allowing the repair or removal of the thruster. This type of repair is much faster and more economical, reduces environmental impact, saves resources and increases security of the operation.
This service is unique and groundbreaking. All procedures performed by our divers follow stricter standards for safety and quality. Our team is highly qualified and experienced not only in diving, but also in ship repairs.
Follow a list of the main services performed by our dive team:
Thruster repair (in situ) and replacement;
Stern tube seal repair and replacement with flexible cofferdans technology;
Rudder repair;
Especialized inspection monitored in propulsion;
Propeller repair by cold straightening and modification;
Propeller polish;
Underwater qualified welding and cutting;
Hull repair.
See the image gallery:
How the process works.
> 1. After the inspection of the equipment, the submerged repair starts with the removal of the tunnel thruster grid in one of your sides. In both sides of the tunel thruster are fixed flexible cofferdans through welded clips in the hull of the vessel.
> 2. The cofferdans are watertight compartments, lightweight and flexible, allowing the removal of water inside. The clamps hold the frames of the cofferdans, providing the necessary seal. After fixing, the filtered air is injected, expelling all the water into the tunnel thruster, allowing our specialized divers to make the repair or installation.
> 3. Repairs such as changing the sealing of the blades, for example, are performed on site, saving considerable time and costs for our customers. In more complex repairs that require the complete removal of the thruster, our team is prepared to do the job safely. Sendo este serviço realizado com todos equipamentos certificados pela DNV, e profissionais que já realizam a manobra com experiência de prática.
> 4. In the case of complete removal of equipment, all the oil is drained and all parts such as blades and motor are decoupled and tightened, ensuring complete sealing, isolating the equipment from the water. Thus, the equipment can be released safely and hoisted for subsequent maintenance.
See the video below, that gives more details about the process:
Large investments are being made to achievement and development of tools and equipment in addition to ongoing training to the formation of a highly qualified staff to perform any service, however challenging it is.